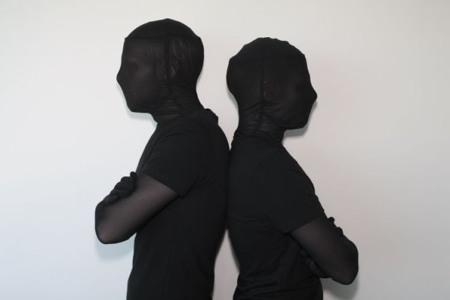 Welcome to a new month and the new line-up of tunes on the Starlifter Radio playlist.
One of the biggest releases to come out for me over the past few months has been the new one from the Chemical Brothers, 'Further'. It's fabulous, and probably one of my favorites since 'Dig Your Own Hole'. Definitely not as dark and much more on the loved up buzz which I think is just what many people in the world need right now. I've added 'K+D+B' to the mix and  to compliment that 'It Doesn't Matter' is there just to remind you that the K-Hole isn't too far away.
dESIGNER vIOLENCE is the blood-gloss configuration of Thomas Dietrich and Tristen Deschain. Barely a year old, dESIGNER vIOLENCE is just starting to receive pin pricks of the attention. The duo's profile was recently elevated after the success of it's remix of Within Temptation's "The temptation within". Tristen was formerly in a Christchurch outfit called 5 1/2 Minutes. We've added a glitchy wee number from them called 'lIPSTICK'.
All my friends seem to be raving about these guys at the moment and why not 'I think I, I think I like it!'. Fake Blood are the radness on the italio-nu-disco tip and I dig it yo. Cheers to Endless Alias for this hook-up.
Man, Tame Impala. They are just amazing.  Their latest album, 'Innerspeaker', is in the running for my favourite album of the year, definitely the best rock album of the year so far. They seem to be pretty good at covering other people's music too, a cover of the Midnight Juggernauts 'Vital Signs' has been just added, enjoy.
Karlmarx is production duo Isaac Aesili (aka Karl) and Mark McNeill. Isaac is based in Auckland and his brother Mark is based in Christchurch. The project got started as an experiment in combining the  different tastes of the two brothers together to see what the fusion of these would sound like. The songs on this album were made specifically after being conceptualized around the themes Karlmarx decided to explore. Mark McNeill is a producer and engineer who makes his own music while studying at film school at Canterbury University. He was initially the studio engineer for The Shocking Pinks who are signed to DFA Records in New York. His influences include industrial and synthpop. 'Leaning Shadows' has been added to Starlifter for your listening pleasure.
And just to round things off I've uploaded 'The Twelfth Hour' DJ mix set from Brazilian Disco duo, The Twelves. Everything these guys touch is gold. Dance baby! If you want it for your MP3 Player you can download it from here.
This radness resides on-air also::
Artist – Song – Website
We Are Terrorists – Ground Zero
Orbital – Don't Stop Me
Hawnay Troof – Find A Way
SoNic Smith – Wii Break (Sharkweek Hz 2 Wii remix)
Sharkweek – Small Firm Peppermints (Haszari Filthy Pepper Mince Pie remix)
DatA – One in A Million
Go Home Productions – How Soon Is Independence? [http://www.gohomeproductions.co.uk] (Free download)
The Mint Chicks – Ockham's Razor
Brains – violet [http://soundcloud.com/brainsband/]
Ghost – Postcards from the Edge
Section 25 – Looking From A Hilltop
Tom Cosm and Hannah Flatman – The Opaque Dub [www.TomCosm.com] (Free download)
Luscious Jackson – Why Do I Lie?
Cavalcades – All Gathered 'Round
Tortoiseshell – This Girl (Canyons dub)
And heaps more ow! Thanks for hanging and enjoy the tunes.
Peace,
Dr H
P.S. Many thanks to the boys at The Joint (www.thejoint.co.nz) for the kind birthday wish (I turned 29 on June 26) and putting me onto 'One in a Million' from DatA. You guys rock.